Spring Concert
The Whitehorse Community Choir is excited to do its first live performance At the Yukon Arts Centre since 2020. See details on the attached poster.
"Water Music – Songs of Seas and Rivers", will feature our three small choirs singing live on stage at the Yukon Arts Centre. All three choirs will be singing together for two songs.
Tickets are now available at yukontickets.com Masks are not mandatory but are highly suggested.
If you know people either in Whitehorse, Canada or the world who might be interested in seeing the concert online, they may purchase tickets to stream the May 8, concert.
The choir will be performing in Atlin, BC on May 14, 7:00 pm at the Historic Globe Theatre. Tickets available at [email protected] or bit.ly/atlin-water-music
The full concert program to accompany the 2022 Water Music concert is now available for your enjoyment!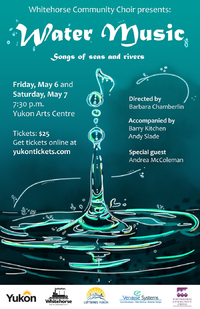 Concert Program