Christmas Concert - NEW
Concert Program and Musical Score for Singalong
The full concert program and Hallelujah Chorus score to accompany the streamed 2021 Christmas concert are now available for your enjoyment!
Due to the evolving public health state of emergency in the Yukon, Whitehorse Community Choir will be unable to hold an in-person Christmas concert on December 3rd and 4th. The concert will now be online only. Tickets to view the Tidings and Tinsel concert online from December 4th to December 16th are available at yukontickets.com and can be purchased until December 16th.
This concert will feature recordings of our three small choirs singing on stage at the Yukon Arts Centre, as well as other pre-recorded delights.
The online tickets are available on a "pay what you decide" basis – just click on the down arrow to bring up the range of prices.
If you already bought a ticket to an in-person performance or the online performance listed for December 3, please see the information below the poster about Ticket Refunds and Exchanges.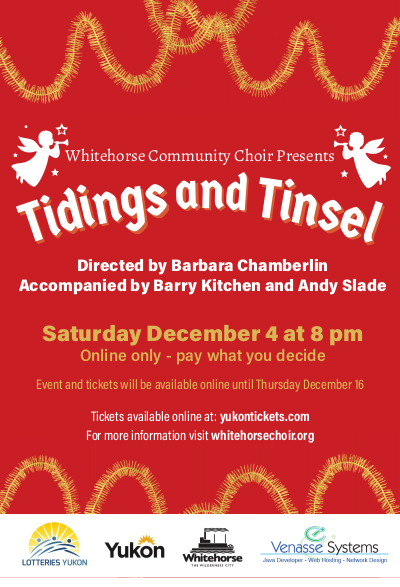 Ticket Refunds and Exchanges
In-person concert ticket refund – if you would like a refund for ticket(s) purchased for the in-person concert, please phone the Yukon Arts Centre box office at 667-8574 before the show start time of 8pm December 4th about obtaining a refund. Messages are checked, but it may take 1-3 days for a response.

Partial refund – if you bought more than one in-person ticket with your account at yukontickets.com, phone the box office to request a refund for all but one of the tickets you want refunded. If you want to see the online show with the remaining ticket, see the next bullet point about how an in-person ticket purchase can be used for online viewing. (For example – if you bought four tickets for friends/family members on your account, you can only use one to view the concert online. If your friends/family members want to watch the online show, they will have to buy a ticket using their own account.)

Using in-person ticket for online show – if you would like to watch the show online and are happy with the $25 ticket price you paid, all you need to do is log into your account at yukontickets.com between 8pm December 4th and December 16th and watch the show. If you want to watch the online show and pay a different price, you will have to ask for a refund for the in-person ticket and go into your account to buy a ticket for the online show.

If you bought a ticket for the December 3rd online show, that ticket can be used for viewing the show starting at 8pm on December 4th by logging into your account between 8pm December 4th and December 16th.
We hope you will join us for our virtual celebration of Christmas music!